Want to win our award?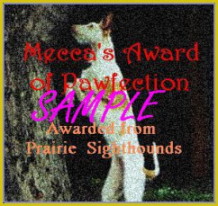 #1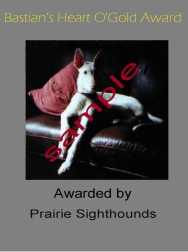 #2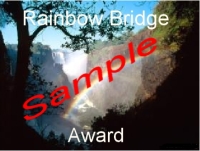 #3
So you want to win our award huh? Here is what our requirements are:
Backyard breeders and puppymills need not apply.
No adult sites, or sites that all ages cannot see.
Site MUST be pet related. Commercial sites are welcome if you fit our requirements.
I really HATE frames, if your site has frames make sure I can get out of them!
Signing my guestbook is not required, but definantely helps (hint). I would love to hear from you!.
You must link back to my site if you win my award.
Your site MUST be easy to navagate, and if your site takes forever to load I won't be a happy camper. No broken links or graphics, No sites with just links and if your site is still under construction please see us when your finished!
If you have midi's on your site PLEASE make sure you give me a way to shut them off.
All in all what I'm looking for is a well made & informative site. One that really strikes my interest & makes me want to keep seeing what your site has to offer. If your site makes me say "WOW" you have got it.
Sorry I can only contact winners of my award.
Let me know which award you are applying for, #2 is stricty for rescue sites or personal sites of those who have rescued dogs. #3 is for sites that are dedicated to grieving for pets ie rainbow bridge type sites.
If you want to apply for my award & think your site is worthy, please email at ibzhound@hotmail.com with your name, email address,URL of your site, which award you are applying for and tell me why you think you should win.